Inside the Anglo Irish - The secret tapes

national | crime and justice | feature

Thursday June 27, 2013 23:00

by ciara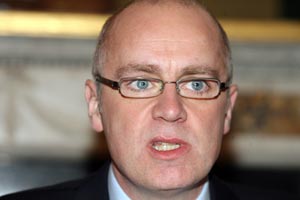 The astonishing tapes show senior manager John Bowe, who had been involved in negotiations with the Central Bank, laughing and joking as he tells another senior manager, Peter Fitzgerald, how Anglo was luring the State into giving it billions of euro. Mr Fitzgerald had not been involved in the negotiations with the Central Bank and has confirmed he was unaware of any strategy or intention to mislead the authorities. Mr Bowe, in a statement last night, categorically denied that he had misled the Central Bank.

The audio recordings are from the bank's own internal telephone system and date from the heart of the financial crisis that brought the State to its knees in Sept 08.

Anglo itself was within days of complete meltdown – and in the years ahead would eat up €30bn of taxpayer money. Mr Bowe speaks about how the State had been asked for €7bn to bail out Anglo – but Anglo's negotiators knew all along this was not enough to save the bank.
Related Links: Police Draw Batons on Bank Bailout protestors | Ireland and the shadow Banking System - A Talk by Dr. Conor McCabe| The Recession, Bank Bailout or our Deficit? | Audio from Conor McCabe on Banker and Rancher Interests in the Modern Irish Economy | Anglo Irish Bank Protesters to Plead Not Guilty -Here we have a case where the govt tries to convict people protesting against the bankers but not the actual bankers themselves. | Banner Protest outside Anglo Irish Bank | Eirigí Protest at Anglo Irish Bank - 13 Photos Essay | Why the Fianna Fail Party wants to avoid bank nationalisation. | Workers Party Press Release Dec 2008 on Anglo Irish Bank | Initial Thoughts on the Govt's Guarantee to Irish Banks and Its Wider Implications | Communist Party Demand the sacking of all CEO's of Irish banks
The plan was that once the State began the flow of money, it would be unable to stop. Mr Bowe is asked by Mr Fitzgerald how they had come up with the figure of €7bn. He laughs as he is taped saying: "Just, as Drummer (then-CEO David Drumm) would say, 'picked it out of my arse'."He also says: "If they (Central Bank) saw the enormity of it up front, they might decide they have a choice. You know what I mean?

"They might say the cost to the taxpayer is too high . . . if it doesn't look too big at the outset . . . if it looks big, big enough to be important, but not too big that it kind of spoils everything, then, then I think you have a chance. So I think it can creep up."

Mr Fitzgerald, the Director of Retail Banking, is heard saying: "Yeah. They've got skin in the game and that is the key." Mr Bowe's comments in the audio recording reveal that Anglo's strategy was to lure the State in, leaving taxpayers with no choice but to continue to provide loans to "support their money".

The recording also shows Mr Bowe and Mr Fitzgerald laughing as they say how there is no realistic chance of ever repaying the loans.''

Now i believe this was in the property of the gardai for over five years. My question is why wasn't anything done about it?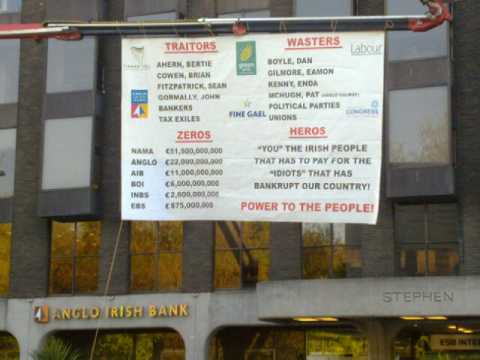 I know there was a referendum on legislating for inquiries for instances like this but the sheeple voted it down, and voted no.
Now it looks like there will have to be another referendum, or the government will have to find a different way of going about this.
What really boils my blood on this, in another recording i was listening to on RTE radio, they were laughing and joking about what expensive Merlot to drink on their ''working lunch''..
Meanwhile they have by their callous actions destroyed the lives of many a struggling family etc, while laughing about it.
It really sickens me.There are families who cannot even afford to feed their children that have given them up to orphanages in Ireland in the 21st century.
Are these people going to be prosecuted with the full weight of the law ala bernie madoff,or will they get off with it.?
There no different to any other form of criminal they have show flagrant disregard for the public at large.
Your thoughts please.
Editor: Some choice quotes


It's all a great laugh....
Drumm: "Ah, you're abusing that guarantee. Paying too much in Germany I heard now as well. Fucking ridiculous, John."
Bowe sings: "Deutschland, Deutschland, Ubber Alles" (both laugh) Drumm: I should be recording these calls for the fucking craic – or at least making notes.

Defrauding the system.....
Drumm: "We won't do anything blatant, but,, we have to get the money in. Well we'll have to fuckin' tiddly-winkle for it."
Bowe: "So I'm just saying to the guys: 'Look, just be smart, don't be stupid, get it in, don't be overtly pumping it so that somebody can quote you… but we want to get the liquidity ratios up.'"
Drumm: "Correct and right. So okay so just keep nursing along….
Bowe: "We will. Now I have… sorry go on."
Drumm: "… jack the rates up. That's what I really meant, get the fucking money in, get it in."

Caption: Video Id: FfjqUIXJH5I Type: Youtube Video
Anglo Irish Tapes Audio on YouTube from Independent.ie