Barcelona : Black ribbons (again)

international | crime and justice | feature

Sunday August 20, 2017 21:56

by iosaf mac diarmada

0034600341065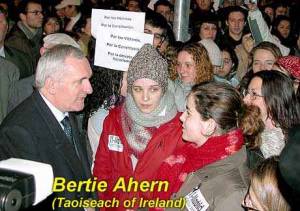 These are my initial published thoughts on the terrorist attack I and my partner survived and endured 17th August 2017.
Fadó Fadó, long time ago, when many more readers came to this corner of the internet, I published a series of articles in reaction to a terrorist attack on Madrid, the 11th of March 2004. I promoted a simple design back then, to my surprise the idea found traction and was accepted by countless people. i had thought my suggestion was easy to reproduce and helped people express collective mourning, to show publicly their fellowship with a community in shock. My design was a black ribbon, one which was easy to knock up variations upon and print out. I admit the ribbon idea was based on my much younger years when I had worn a green ribbon in support of a complex idea back then : the inclusion of political prisoners in a tentative British Irish peace process. Am I turning some off the provenance? OH talk to me about my youth why not? The idea of a black ribbon took off the weekend of March 11th, 2004, whilst the then government of Spain falsely attributed an attack by Salafists in the ambit of Al Qaeda on Madrid by blaming the Basque armed seperatist group ETA. IT was a few days before a general election. An estimated 80,000 people took to the streets of Spain and the Spanish state and camped out in front of government offices and the offices of the ruling party demanding the truth... I was one... the ribbon was a moment in my life... I never wanted to see it used again In the last hours the city of my home where I have lived almost 20 years has been victim of a long anticipated terrorist attack. Even google now puts a black ribbon. I return to indymedia ireland to indulge POV reflections.
Related Links: Barcelona Attack : Black Ribbons (again) | Black Ribbons. (March 12th 2004)
Yesterday I received a phone call from my girlfriend, my wife, my partner. She shouted at me at first, "please this is important listen!". She told me that she had been caught up in a stampede of people running from the main artery street "las Ramblas" of Barcelona's old city. She told me she was safe in a Danish bar. She had remembered all the conversations that we had about what to do, should we, as we expected, be in the city when he suffered a typical terrorist attack associated with and claimed by so-called DAESH / ISIS.

She did not run with the crowd. She went to the wall of the street, she saw hundreds of others stampede and trip themselves up. She saw crying children seperated from the parents. A group of Italians were shouting that a van was being driven into people. She heard the Italian and walked sideways hugging the wall towards the nearest shop or bar which was open. This is what we had agreed to do. She was to stay in that bar for a further 7 hours within one of the police cordons placed within 15 minutes around the scene of a terrorist attack and the presumed escape route of the terrorist.

He is in a crack house in the Raval- At least that is the word on the street. Since he escaped into that neighbourhood, 5 people were shot dead as they attempted to carry out a second van driving assault in the Seaside resort town of Cambrils. In the early hours of this morning an explosion injured ten people, what was first attributed to a gas leak ifs now part of the terrorism investigation and is reported as being a bomb factory.

Barcelona, Catalonia, Spain have suffered a concerted and organised attack. Low sophistication in terms of weaponry. Clearly they took advantage of the terrain. Many, myself included have long noted that 3 of our busiest pedestrianized or mostly pedestrianized streets lacked concrete bollards or any significant impediment to such an attack.

Today we begin our official days of mourning. Black Ribbons are ubiquitous, many businesses are closed, my wife/gf/partner was told not to go to work in the business zone of the city. Small mercy for her. She spent 7 hours in a Danish IPA bar, everyone there made friends, and they felt reassured that the Catalan police used their street as an operational base. I used all my charm and language skills and that quality I have ..the you recognise me, & you know I do alternative walking tours of this area and I am part of teh community. . The cops behaved with professionalism. They were obviously as shocked as anyone. I published on facebook the information I got from my partner. I tried to allay fears or panic in my post, I said it was "rumours". It took 25 minutes for the "rumours" to become international newswire headlines. Our phones began to ring..,

The hours that followed saw misinformation spread. I past through 3 police cordons trying to get to collect herself. The cops told me at the final cordon that if I tried to cross ramblas, I would be in a shoot to kill zone. I did not try to cross ramblas. At the point twitter told us as much as Sky News. There was a hostage situation in a restaurant. This of course later was denied on the Catalan police force´s oen twitter account.

There are so many lessons to learn..,

I would ask editors understanding and the privilege of returning to this text and expanding it.... or else I add to its information and write my analysis later on.... it is just that my phone is hopping again........... that is what happens when war comes to town and there is a mass murderer at loss less than a kilometer away, a young man who stole his own brother's driving licence to commit mass murder. He lived proximate enough to his big brother to feel unhappy. His family have been brought into protective custody. Terror has spread out like oozzed oil on foil.

But people have their mechanisms for collective response. They can photocopy black ribbons.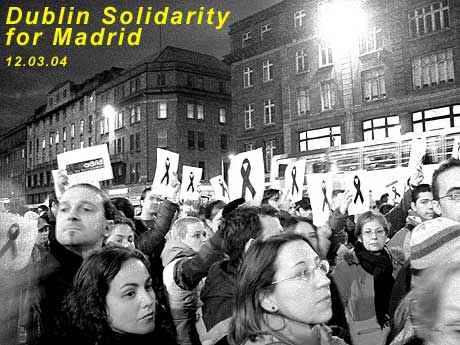 i had work a black armband at first then made lapel ribbon, we mocked up various images and they took off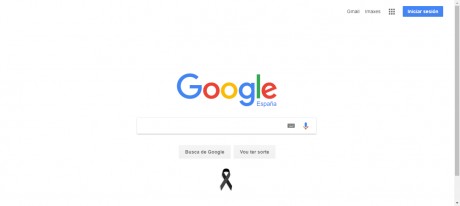 i had never wanted to see it used in relation to my home. I considered Madrid close enough, I never expected my wife to be on site.