No More Deaths On Our Streets # 2

dublin | crime and justice | feature

Monday September 19, 2005 10:31

by blanch4life
Guns, drugs, work and the future of life in Blanchardstown, Dublin 15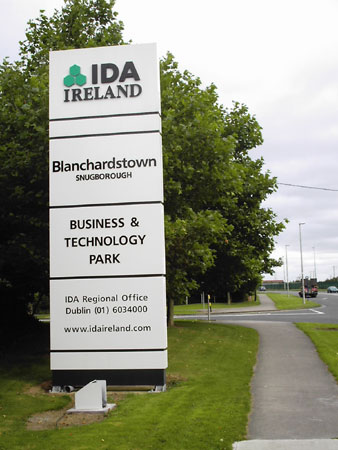 In response to the death of Mark Glennon, the following article appeared on the Indymedia newswire under the byline Blanch4life. While the crime reporters for the rest of the media can report breathlessly about the "westies" and the politicians and Guards can outdo each other with get tough responses, this article looks at why the trade that Mark Glennon and his brother supposedly died over took such a hold in D15 and what the celtic tiger is actually delivering for those who have jobs. People protested in Dublin this weekend at the deaths of two people left behind by our Celtic Tiger economy, and tried to find out why some citizens in the North are so alienated - who'll speak for those riding the tiger out in Blanch?


"So, what's the answer to all this? How do you stop young men becoming involved in gang culture? The traditional left wing answer is that the area is economically depressed, a 'blackspot', and needs more investment in jobs as well as extra Garda on the beat to combat crime. This may have been true in the 80's and even up to the mid 90's, but it is a blinkered response to the reality of Blanchardstown today. The Celtic Tiger is there in full effect..."
From the Newswire: The full Article
The Glennons are dead. The drugs live on.
People were coming in early evening last week saying that someone had been shot in Hartstown. It didnt take long to find out exactly who it was. I cant say I shed any tears - I dont imagine that many others did either. Several years ago Mark Glennon and his brother "Madser" (Andrew) had assaulted a member of my immediate family during a large altercation between two groups of people outside a social night. The ferocity and intensity of the attack was pretty shocking at the time, but I suppose in the context of who they were and the reputation they cultivated for themselves, anything less would have been a surprise.

When Madser was shot near the gap between Huntstown and Clonee (only 50 metres or so from a local primary school) in April, the greater Blanchardstown area sighed a collective breath of relief - but only for a second. Since his days of growing up in Fortlawn in Mountview, he had always sought to live up to his nickname, which reputedly was given to him when he drank a bottle of spirits when he was only 11 (this of course may be bullshit, but so the story goes). After dropping out of Blakestown school, he got involved in low-level drug dealing and sank into the crap career criminal lifestyle - which largely consists of sitting around drinking, watching daytime TV, nursing meaningless grudges which inevitably lead to violent retribution, and neverending speculation on other members of the same subculture, expanding to their brothers, sisters, and partners (exacerbating their complete detachment from the wider society around them).

The public relief of seeing another drug dealer shot dead by others is always a guilty feeling. And in the cycle of violence, everyone knows in their heart that it is not the end. There is the opinion, expressed openly in our work canteen the day after the shooting of Mark, that as long as they were killing each other, who gives a fuck? Better they were all dead. The problem is that, unlike old-school "Ordinary Decent" criminals (certain amount of fuzzy truth in that, but I'll continue anyway), the Blanch crims are completely detached from the wider community, and do not give a shit about innocent people getting in the way of their vendettas. The machine gun attack early in the year at the door of the Blanchardstown Garda station sent a shiver down the spine of residents living south/east of the Snugborough Road extension, in the Village/Roselawn/Coolmine area, which is more prosperous than other parts of the suburb. The gang war was surfacing in places which had never experienced anything more threatening than a raucous bonfire. Over 50 rounds were discharged from a high velocity Uzi. Anyone in the vicinity could have been seriously injured or killed.

So, what's the answer to all this? How do you stop young men becoming involved in gang culture? The traditional left wing answer is that the area is economically depressed, a 'blackspot', and needs more investment in jobs as well as extra Garda on the beat to combat crime. This may have been true in the 80's and even up to the mid 90's, but it is a blinkered response to the reality of Blanchardstown today. The Celtic Tiger is there in full effect. There are greater job and educational prospects than ever. The IDA, after years of granting massive tax breaks to multinationals, nurtured the growth of some of the biggest industrial estates in the country to the north and west of Corduff (the 'Westies' heartland) including Snugborough, Ballycoolin, Rosemount, the Corporate Park, Damastown, etc. Every hi-tech giant you care to mention has a base there. At one point the local papers were referring to it as "Ireland's Silicon Valley". Many local people, including the long term unemployed, have found work in these factories. During my time there in various manufacturing jobs, it was almost something to be proud of to list off the different places you'd worked in around the area. Despite Joe Higgins' antipathy towards US multinationals, without them his constituency would be in less healthier shape. Also, after years of crying out for a third level facility, the Institute of Technology is running smoothly, and increasing in numbers every year.

So unemployment is at an all time low, there are openings and finance for further education, and there are 05 cars parked in the driveways of council homes. Why are there still criminals in Blanchardstown? How are they making enough money to buy themselves houses, foreign holidays and fast cars? Yes, the economic situation has changed. But whats often glossed over is the nature of many of these new economy/tech sector jobs. They may provide a stable income (as long as you're not a temp or on contract - as many are) but in many cases, especially for people in the entry level positions, the work is painfully, brutally, soul-destroyingly mind-numbingly BORING. No amount of champagne announcements of new jobs created by the Dept of Trade & Enterprise will ever compensate for the fact that these jobs are menial, repetitive, unchallenging, and ultimately degrading. But this is never talked about - after all, if everyone's working, surely they're happy?

This cuts to the core of many of the social problems in Irish modern society. I remember working in one of these much-lauded tech sector jobs about seven years ago. I was nothing. A robot, an automaton, doing the same 5-second task over, and over, and over again for 8 hours a day, 5 days a week (plus overtime, which in many cases you didnt have a choice to refuse - people that did were let go a few weeks later). But on Fridays, I was let loose, with a new fat wad of cash sitting in my bank account, waiting for the first of many ATM withdrawals over the weekend. At times on the job I thought I was losing my mind. What better way to deal with it than go out on the town and get completely fucked out of my mind, a mental prison for most of the week, on whatever drink and drugs I could get my hands on? In the factory, there was a seeming never ending supply of yokes, coke, trips, napps, smack, hash, grass. I knew exactly who was selling what, and who was higher up the food chain as well. I was conscious of who these people were and their reputation in the neighbourhood as scumbags destroying the community, but I didnt care. I just wanted to be out of my working week mental state, and drugs (ecstasy) were the best way of doing this for me. The dirty underbelly of the Tiger is a huge rise in the consumption of recreational drugs from the early to mid 90's onwards. Cocaine, a 'status' drug because of its relative expensive price, has been seized in larger quantities every year.

This is the same with alcohol for our society at large. In a society that values working 40+ hours a week, and a 'career', above genuine time with your family, friends, and space to do absolutely nothing if you wish, alcohol is always going to be the answer. We're all working more and making higher wage packets - but we've no time to enjoy it. More than a hundred years after Haymarket, the concept of an 8 hour day being enough to keep society afloat has not been improved upon. Surely with technological advances with labour saving devices, we should all be working 4 hours a day. This doesnt feed into a system based on profit however. There's lot of talk at the moment of the loss of 'social capital', but this is debated in the same abstract stratosphere as debates surrounding the work/life divide. There is never any conscious examination of the working life at its base. Merely encouraging people to spend more time with their families or gettting active in leisure without facilitating the possibility of them doing so in legislation, means any posturing by politicians about the effect of the commuter lifestyle on communities will only be waffle-vote-talk. Imagine the response from the likes of IBEC if the State legislated for a maximum 20, 25, or 30 hour week (or even 35!).

Seriously though, in reality, short of a complete change in the way our working society operates, what is the answer to stopping gang culture? Another possible answer is legalising the drugs that provide the gangs with capital. If drugs were readily available from chemists, the bottom would fall out of the market for dealers. Inevitably this would lead to a higher drug consumption rate among the public, as legality = acceptability, but maybe then the drugs would be safer, and you wouldnt have people killing each other for them. I dont ever recall a turf war over cans of Dutch Gold. The problem here is that you might have more people killing each other _on_ drugs, thus exacerbating the problem of the 2am warzone on some city streets (for origins of this conflict, see previous paragraphs). The Irish culture of over-indulgence would not sit well with Class A's either.Nevertheless, poitical leaders rarely stick their head above the trenches when it comes to the drug war. Intelligent open debate and questioning are met with knee-jerk responses and gombeen party point-scoring. Reactionary groups like the National Parents Council fire off press statements about the potential devastating effect on our kids - despite the fact they're all already down the local scrub ground mad out of it. So any possibility of opening up discourse on this level of solution gets nipped very early.

If we legalise drugs, wont the gangs just move on to something else? Perhaps. Long before drugs were around, criminals werent sitting around waiting for consumer society to splurge out on chemical reality denial. Extortion, bank robberies, currency forgeries, media piracy, smuggling, gambling, prostitution, blackmail, car ringing, scams, burglaries and so on are undeniably more EXCITING to a youngster than packing boxes for 40 hours a week. If we're serious about reaching solutions to drugs, we need to look at the reasons why people are doing them. What kind of a society are we building here? Are we employing people in meaningful, varied, thoughtful and skilled positions - or are their lives turned over to multinational wage slavery? Are we happy with spending a third of our lives in work, and another large chunk preparing for work, commuting, and trying to unwind afterwards? What kind of future do we want - and what will happen in five years time when all the tech companies leave? What will Blanchardstown be left with when the industrial estates start to close down? Will there be a community there to pull through the bad times together - or will everyone be too busy getting off their face?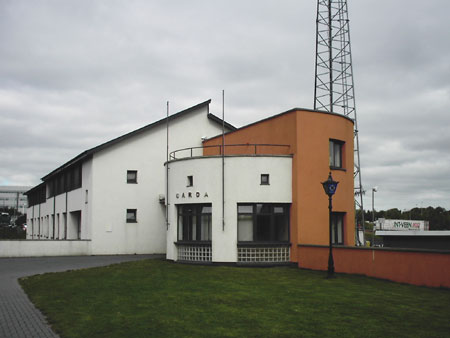 Blanchardstown Garda Station, site of Glennon brothers machine gun attack earlier in the year.


The Brookwood Inn in Corduff, ex-Westies hangout and general all around hard bastard's pub.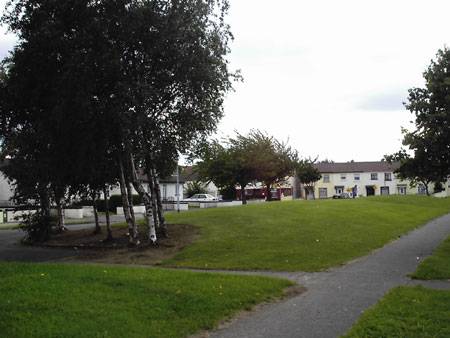 Whitechapel, where Mark Glennon's killer is from, who is currently in hiding (along with his girlfriend).


The gap between Huntstown Wood & Clonee, where Madser was shot. About 100m from a primary school entrance.