Nurturing and reclaiming our city, our commons, our communities

dublin | environment | feature

Wednesday August 12, 2009 16:12

by Gardener - Dolphinsbarn Community Garden

dolphinsbarngarden at gmail dot com
Community gardens are emerging in Dublin City. Is the economic downturn an opportunity for us to reimagine, recreate and design the city we would like to live in?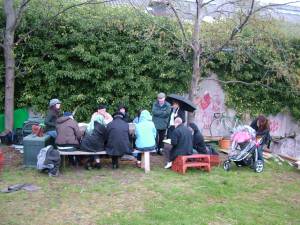 Nurturing and reclaiming our city, our commons, our communities

Community Gardens are emerging throughout Dublin city. These small projects have large narratives. When we create community gardens we build alternative ways that our cities operate and can be made sustainable. We build positive spaces, social spaces and community. We address land use, workers rights and learn to collectively organise. We seed save, skill share, reclaim lost knowledge and recycle. We re-establish a relationship with the cycles of life, with nature and become aware of our deep connection to our environment and each other. Community Gardens are radical spaces and the good news is that they are on the increase.

Over the last 10 years the destructive development of Ireland has been driven by economic greed with little thought for communities, nature and our collective future. Our ecological foot print increased dramatically. In 2006 we were top of the list on our rubbish per capita per year of 31 countries surveyed in the EU. Our resource consumption and our waste creation had increased exponentially.

Community Gardens (Links):
South Circular Road Community Garden
Finglas Community Garden:
Belfast Community Garden
The Bridge Foot Street community garden, Dublin 8 tel Mairin 0871319578
Sitric Road Garden, Stoney batter tel Kaethe 0872444185
===
Indymedia.ie Article: Finglas Community Garden
Indymedia.ie Article: Bold, Beautiful, Blooming Barcelona asks: What would it mean to win?
Indymedia.ie Event Notice: Climate Camp - Action for Social Justice - 15.-23. August 2009

Dublinís first community garden was set up on the canal in Dolphins Barn in 2005. This squatted garden acted as a locus and knowledge sharing point for a number of activists and people living within the community. The project is still ongoing in Dolphin's barn but has moved to a site on The South Circular Road. This is our most recent video. We have had visitors from regeneration committees, youth workers, students, Dublin city council, school teachers, St John of Godís, Eco UNESCO and community groups visit the project to learn how to go about creating a community garden. Other successful community gardens in Dublin are The Sitric Road Community Garden and The Finglas Commmunity Garden.There are a few garden projects that are just getting off the ground in Summer Hill, Cherry Orchard and Phibsboro. Those of us who have worked in and developed these projects have become aware of there effectiveness and ability to create community cohesion and socio-political awareness.

Food is a human right. Thinking about food makes us think about our consumption. It is a visible poverty in Dublin that those on low incomes and social welfare have no access to fresh organic food. Many of us living in the city rarely think about where our food has come from or under what conditions it may have been produced: the workers, the pesticides, the food miles or the conditions animals may be have kept under. When we do start to digest these ideas it becomes hard to take direct action when the organic food that we wish to purchase is out of our income bracket. Healthy locally produced food should be accessible and affordable to all in Dublin, in Ireland and globally. A way that this might be reversed is through Community Gardening. Imagine if each community centre in the city had a community garden and a non-profit community cafť with food made by different community groups each day from this locally grown produce.

Community gardening is a collective activity; it is a way to educate yourself and your community; itís a way to feel empowered and take local effective action. When you plant one seed let it develop and mature back to seed: it offers hundreds of seeds to be collected and planted the following year.

Community gardens offer a way for people to re-create and re-think their cities. The economic downturn can be used to build up communities, to awaken our communities, to create the communities that have and cultivate respect for each other, support each other and the eco-system.


Here are some basic steps on how to set up a community garden:

1.Find a potential site
a) Squat the site. The advantages of this is that you can get the project off the ground quickly. The disadvantages are that you may be evicted as we were a year after squatting the garden on the canal in Dolphins Barn. (Here's an example of a long-term successfully squatted garden)
b) Ask permission. We got use of a site while it is sitting idle, it has planning permission on it for apartment blocks. In the current economic climate there is the potential for greater access to these sites. There are many potential sites in the city. You can also get onto your local Dublin City councillors and officers and ask them if there is potential land for your project. Publicly owned land is our common. Our communities should have the right to have access and make decisions on how this land is used. ( has permission to use land belonging to a local school.)
2. Test the soil. Before planting it is best to get the soil tested as it may be contaminated. We were fortunate in that one of our gardeners fathers worked in a Lab so he was able to do this for us.
3. Advertise for interest in community centers or libraries, flyer your neighbours living near the site.
4. Start clearing the site. People will naturally be attracted to the project especially if they see you working in the site and many people will join you.
5. Get together and plan your garden. Each member will bring a different skill set that will enhance the direction of the project.
6. Collective composting. A good way to get people involved is to invite neighbours to start putting their compost in a compost bin on the site. (This is how the Sitric Garden in Stoney Batter got started)
7. You will have a community Garden.