Case against animal rights demonstrators dismissed

dublin | animal rights | feature

Friday August 14, 2009 10:03

by Colin Ashey
Garda B16 does not know a "document" when he serves it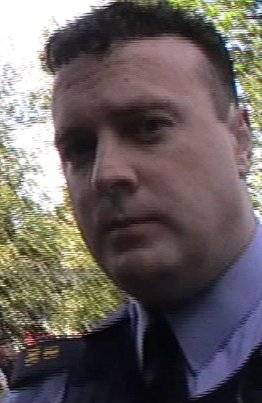 At a hearing in Dublin District Court today, Judge McMahon dismissed the case against two animal rights activists arrested outside Barnardo's fur shop on Lower Grafton Street in Dublin on 22 May this year.
Robert Sevik was charged under section 24 of the Public Order Act (refusing to give his name and address), and Edmond Long was charged under section 19 of the same act (obstruction of a peace officer).

Proceedings were instituted by Garda Paul Tallon, B16, of Harcourt Street station. The two men defended themselves. Seán Ryan acted as a McKenzie friend to both co-defendants.

Related Links:
CAFT Ireland's 'Fur Farm Exposé Tour' Report | Dublin airport removes Dying and dead Fish | Why Vegan? | ARAN Members Speak Out for Animals in Irish Circuses | Remove the Funtasia Roof Farm immediately-risk to animals and environment | DUFFY CIRCUS RINGMASTER Threatens protestor– Id take bits out of you! | The humane food myth

This just in: RTS Trials Update | RTS cops in court today

Extra Links and Contacts
Email AL: aliberationnow@gmail.com
Phone: 086 3203643
Mail: PO Box 4734, Dublin 1.
VegaPlanet
AL's Website
AL's Undercover Fur Exposé
The case was first adjourned to another court to permit viewing of video evidence, but the defendants promptly brought a motion for dismissal, arguing that Garda Tallon had broken District Court rules by delivering video evidence to them in person. Order 10 states: "A member of the Garda Síochána shall not serve a document in any proceedings in which such member is the person instituting the proceedings."

Garda Tallon responded that "it was a video recording, not a document" - apparently unaware that a video recording may also be a legal document.

Mr. Long had taken the video recording in question on the day of the demonstration and Garda Tallon had confiscated it from him under the Criminal Law Act.

Garda Tallon said that he had subsequently met Mr. Sevik at his home and had given him the video recording, as per a court order of 27 July. Mr. Sevik had initially refused to acknowledge him but recorded him with a video recorder. Garda Tallon had then asked Mr. Sevik to call Mr. Long to take receipt of the confiscated video recording. He did not do so. Garda Tallon had left the video with Mr. Sevik.

Mr. Sevik complained that Garda Tallon had refused to step back out of the doorway when requested.

The judge asked Mr. Sevik why he should object to the garda's behaviour. "Is this not just obstruction?" he asked.

"I don't trust this man," replied Mr. Sevik. "I think that this case is a fabrication."

The judge asked Mr. Sevik what motion he was making. Dismissal.

And what motion was Mr. Long making, if the recording had not been served to him? Also dismissal, as he lived at the same address.

Having checked the rule book, the judge advised Garda Tallon: "There's clearly a flaw in the matter."

Garda Tallon then admitted that he was not aware of the rule and requested a short remand to seek advice from the State Solicitor.

Judge McMahon refused, saying that the rule was quite clear.

"Rules are rules. Dismissed both matters."

Mr. Long faces charges under the Public Order Act again on 14 September, having been arrested by Garda Tallon at a demonstration in the same place on 20 June.