CLIMATE CAMP - Wish you were here !

offaly | education | news report

Monday August 17, 2009 18:32

by Bob Wilson - CELT - Centre for Environmental Living and Training, also Transition East Clare Initiative
Peat power worse than coal for CO2 emissions
Climate Camp is up and running at Shannonbridge, Co.Offaly - started Saturday 15th August and goes on til Sunday 23rd August.

It's about what we can do in the face of changing climate that will affect us all. Peat bogs are a living carbon sink - greater even than forestry. Burning peat releases more CO2 into the atmosphere than burning coal. The peat-fired powerstation beside the camp should have been shut down long ago - since our government and Bord na Mona still fail to see the urgency of reducing emissions, climate camp will be staging a major protest on Saturday 22nd August - this will be a day of action and fun, including street theatre, art, etc, which will hopefully bring media attention to this important issue.

Meanwhile, the camp has lots of great workshops every day this week about sustainable living, peat bogs, forestry, cycling, renewable energy, etc, etc. Come along to my Trees and You workshop on Wednesday ! I will be talking about trees as carbon sinks, as vital elements of biodiversity, as added value to farms and gardens, woodland gardens, agroforestry, CELT native tree nursery, CELT Weekend in the Woods (19 / 20 September) (another event not to be missed !) ...........................

So get yourself along to CLIMATE CAMP and be a part of it !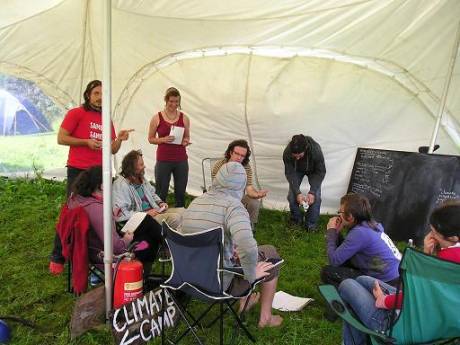 Typical discussion workshop - High energy !