The Art of Scargill:

dublin | worker & community struggles and protests | feature

Friday November 13, 2009 10:39

by Paul D
An Audio Interview With The Man Himself.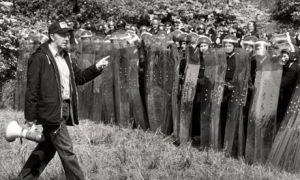 When it comes to the public meeting, Arthur Scargill is one of the best performers around. He has it down to fine art. Perhaps this is down to his political up bringing as a member of the Young Communist League, where great stress was placed on the importance of making inspiring speeches. Or perhaps it has something to do with that fact that much maligned figure like Scargill needs the medium of the public meeting more than most to get across his points, and has thus has a particualr understanding of how to use public meetings to maximum effect.
Audio of Interview:



Download The Art of Scargill 7.09 Mb


The most reliable thesis is that the bes speakers are the people who have something to say that is worth hearing. With this in mind, I conducted a short interview with Arthur before his recent public meeting in Dublin, organised by the UNITE trade union. In this interview, he talks about the importance of pubic meetings, The British National Party and solidarity from Ireland during the 1984/1985 miners strike.

Thanks to Des Bonass of UNITE.

Download The Art of Scargill
7.09 Mb