Global Injustices and Violations of Civil Liberties Go Hand in Hand at Shannon

clare | anti-war / imperialism | feature

Tuesday December 22, 2009 13:33

by Shannonwatch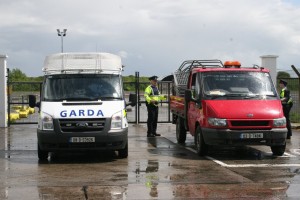 Every day the war machines roll through Shannon, as the innocent populations of Afghanistan, Iraq and elsewhere suffer the brutal consequences of neo-liberal occupation. The Gardai react by mounting public displays of strength against half a dozen innocent protestors, while claiming to have no opinions or authority over the cargos and personnel passing through the airport.
Related Links:
Making War Through Shannon Airport | Shannon Peace Vigil Among the Warplanes | Videos from Shannon Peace Conference | US Military Officers Oversee War Activities at Shannon | Hiroshima remembered at Shannon Peace Vigil
The US-led "war on terror" has resulted in the erosion of human rights in the interest of state security, as disappearances, illegal imprisonment and torture of detainees has become commonplace. The rights of ordinary people in Iraq, Afghanistan and Gaza to live safely with the full enjoyment of their economic, social and cultural rights have been systematically violated by invading powers as they seek to secure their strategic interests. Technology is used to bring death and carnage to millions as the rhetoric of Western security is repeated like a mantra.

Shannon Airport is a prime example of how the lives and human rights of 'other' distant peoples have become expendable in the context of Western self-interest. The ongoing use of the airport by the US military and their contractors is justified locally on the basis of its economic benefit to the region. In the past we have even been told that it is linked to multinational corporate investment, and that we somehow can't have one without the other (that lie stopped when Dell announced it was firing 1900 employees). In fact our support for US imperialism makes us complicit in the suffering and death of innocent people, and contributes to the rise of Islamic fundamentalism. It is made even worse by the routine refueling of CIA rendition planes under the watchful eyes of the airport police and Gardai and in clear violation of national and international law. This is all too high a price to pay for jobs.

Gardai at Shannon go to great lengths to protect the illegal and immoral business being conducted at the airport. Take their actions at the peaceful vigil on December 13th for example. For a start there was the completely unnecessary presence of 10 – 15 uniformed officers and metal barriers, in position for over an hour to stop a total of 7 peaceful demonstrators from getting anywhere near the airport. In fact the demonstrators had no wish to go into the airport on this occasion; public expressions of protest like these outside the airport are quite effective in gaining the attention of other citizens – and of policy makers it seems, judging by the large Garda presence.

Around the world the erosion of civil liberties goes hand in hand with governmental abuse of human rights, and Shannon is no different. When this writer attempted to drive into the airport after the vigil to leave two older members of the group to their bus stop, he was refused entry. The reason given was that "you have no lawful reason for going in". But repeated efforts over a 15 minutes period, combined with unanswered requests regarding the legal basis for refusal, finally resulted in a change of heart from the Gardai. This confirmed that lawful reason did exist! It also confirmed that the Gardai at Shannon – acting under orders from higher authorities (or perhaps from the US officers stationed at the airport?) – will attempt to administer the law in a discriminate and improper way.

Perhaps the Gardai did not believe the reason given for entering the airport, and felt that the real purpose was to engage in further protest near the terminal building. If so they should note that this too is a lawful reason for entry, as the Irish Constitution guarantees ones right to freely express their convictions and opinions. Or perhaps they were under instruction to protect an arriving warplane from peaceful photographers … a visitor to the viewing gallery at the airport an hour and a half earlier was told that it was being closed "for security reasons"!

The abuse of state power was in further evidence after this writer had dropped his passengers off in the airport and was waiting for one of them to return to the car. The Garda sergeant who had tracked the car all the way in told the writer that he was liable to arrest if he did not immediately leave the aerodrome. Why? You guessed it – because he had "no lawful reason …".

It is shameful that our law enforcers do not seem to know what is and what is not lawful. While they impede the movement of peaceful protesters without valid reason, they turn a blind eye to known rendition planes and their crews, to cargo destined for Iraq and Afghanistan, and to US occupation soldiers on their way to kill or be killed. It's been happening for years but it still astounds and dismays me.

Thursday last, December 10th, was Human Rights Day. It was a day on which ordinary people around the world were asked to stand up for human rights. But this Christmas human rights abuse will continue in Afghanistan and Iraq, and more innocent lives will be lost. Its not enough to write letters of complaint to distant governments. Standing up for human rights means ending what goes on at Shannon.