Kilkenny - Event Notice
Thursday January 01 1970
Ireland in Crisis: Radical Alternatives

kilkenny | anti-capitalism | event notice

Wednesday October 06, 2010 14:13

by O. O'C - Peoples Movement

kevinmccorry at kmccorry dot com

086 3150301
Inaugural Raymond Crotty Lecture, Kilkenny
Professor Lars Mjøset, University of Oslo, Norway:

Butler House, 16 Patrick Street, Kilkenny
Friday 15th October at 7.30 p.m.

Ireland Institute, 27 Pearse Street, Dublin
Saturday 16th October at 3.00 p.m.

Farmer, economist, development theorist, historian, and political activist, Raymond Crotty (1925-94) was one of the most original thinkers to come out of modern Ireland.

He made history with his successful constitutional action in 1987 against the Government's attempt to ratify the EU's Single European Act Treaty by simple Dail majority vote instead of by popular referendum.

Holding strong radical views, his advocacy of a land tax as a means of putting pressure on Irish landowners to use their land more productively pitted him against powerful vested interests.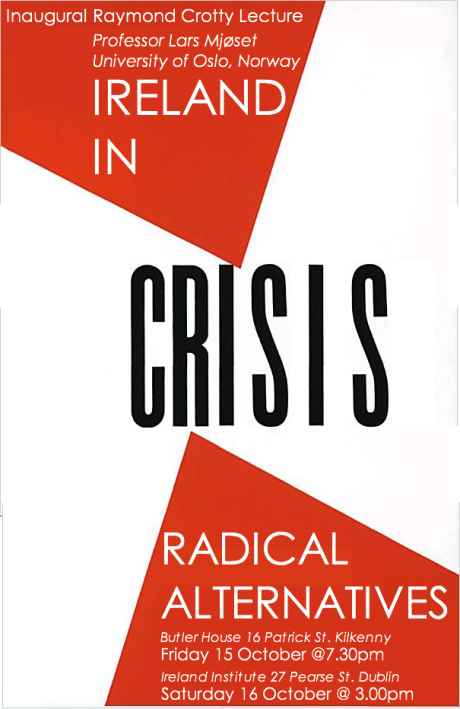 Inaugural Raymond Crotty Lecture: Ireland in Crisis, Radical Alternatives (Kilkenny, 15th October; Dublin 16 October)
"Recent developments highlight the remarkable contrast which has existed for almost a century-and-a-half between the fortunes of the Irish banking system and of Irish society. Few banking systems in the world have enjoyed such protracted, unbroken prosperity as the Irish banking system. By contrast no country in the world can match Ireland's record of political and social decay-with its population less than half what it was 130 years ago, and its workforce 30% less than it was when the State was founded fifty years ago. The Irish banking system has grown rich and powerful as Irish society has shrunk and decayed" (Crotty, The cattle crisis and the small farmer 1974)
Irish Agricultural Production
(1962), his first book, was described by Professor Joe Lee as "a monument of the Irish intellect."
His posthumously published book,
When Histories Collide: the Development and Impact of Individualistic Capitalism
explored the role of Indo-European pastoralist peoples in the creation of the modern world.
All through his active life, he highlighted the fact that his study of the Third World had brought home to him that Ireland's traditional economic problem of high unemployment and emigration had analogies in most former colonies of the European powers.
----------
Professor Lars Mjøset, who will deliver the Inaugural Raymond Crotty Lecture is Professor of Sociology at The Department of Sociology and Human Geography, University of Oslo, Norway.
He is no stranger to Ireland and both knew and respected Raymond Crotty and his work.
His 1992 Report for the National Economic and Social Council: 'The Irish Economy in a Comparative Institutional Perspective' compared Ireland's socio-economic development with that of five similar sized contrast countries.
The Report showed that Ireland's model of development was not only different from that of the five contrast countries but the country's decline in population through phases of massive emigration was unique in the world.
Emigration is on the rise again. Population decline through emigration, together with a weak national system of innovation form what the Report calls the "vicious circle" of Irish development.
Forgotten about during the so-called Celtic Tiger, the obvious lack of an Irish culture of entrepreneurship and the historic failure to develop indigenous industry capable of providing work for most of the labour force, is an issue that is becoming more and more central to any serious analysis of the current crisis.
----------
In 1986, legal history was made. In an unprecedented move Justice Barrington in the High Court granted Raymond Crotty an injunction preventing the Government from ratifying the Single European Act. Subsequently, the Supreme Court struck down the SEA as being unconstitutional. A referendum followed
Professor Lars Mjøset's lecture is the first of what will be an annual event to commemorate the memory of Raymond Crotty.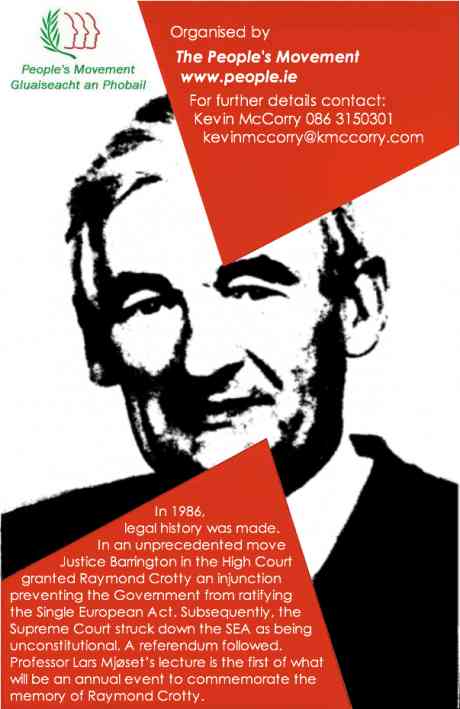 Farmer, economist, development theorist, historian, and political activist, Raymond Crotty (1925-94) was one of the most original thinkers to come out of modern Ireland.