Belfast airport workers hospitalised
antrim | worker & community struggles and protests | feature
Thursday April 10, 2008 08:03
by sp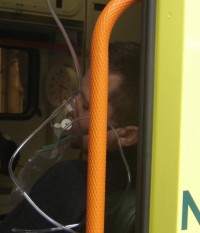 Hunger Strike Update- Gordon McNeill Taken to City Hospital

Hunger striker Gordon McNeill has been rushed to City Hospital for treatment. An ambulance was called to the scene at Transport House due to a deterioration in his condition. Gordon is on his fourth day without food and his second day without water. Also on hunger strike are Madan Gupta and Chris Bowyer. The former airport shop stewards have taken the action to demand talks with the leadership of Unite/TGWU, who have refused to meet with the workers.

For more information, contact Chris Bowyer on 07764850945, Madan Gupta on 07810290938 or Gary Mulcahy on 07743282321.

Related Links: Union official accused Previous Indy coverage UNITE's Belfast Office DearUNITE.com
Doctors are warning that serious kidney damage has probably occured to both Madan Gupta and Gordon McNeill.

Gordon McNeill has been released from hospital and has now rejoined the hunger-strike protest outside Transport House.