Edwards, Myers, Harris, Carew: Pro-British, Pro-US, Pro-Israel, Pro-War
national | anti-war / imperialism | feature
Friday January 23, 2009 22:18
by Harry Wells - The Well, Well, Well, Foundation
Kill, kill, kill in the name of peace, kill the children, kill them all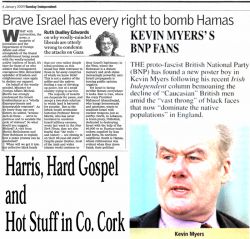 The recent attacks on Gaza by the Israeli state have brought some strange bedfellows out of the Irish woodwork, marching together in lock-step. Almost to a man, and woman, those who were vitriolic in opposition to the Irish Peace Process have been four-square behind the slaughter in Gaza. Eoghan Harris, Kevin Myers, Tom Carew, and Ruth Dudley Edwards - please take a bow.

For Edwards, Myers, Harris and Carew - Sinn Féin equals Hamas (or previously, Sinn Féin equals PLO, when the PLO were the international right's bad guys) . It is good copy for right wing politics. Unfortunately for the Gaza warmongers, ignorance of strange sounding foreigners in far away places has been replaced by pictures of slaughter in every living room in the country. We can see who is suffering and who is killing. Israel's Irish friends would like us to focus on Hamas rockets, the ones Hamas started firing again when Israel deliberately broke a ceasefire that was working, in order to provoke the rocket firing, in order to provoke an excuse for the slaughter. It's not rocket science.

Below is a short but sharp report on the recent role they played in support of the Israeli Defence Forces, and how that role relates to their Irish politics.
Ruth Dudley Edwards – Sunday Independent
Edwards' recent article headlined "Brave Israel has every right to bomb Hamas" (see article image) stated, "when will we get it into our collective thick heads that our own rather simple tribal problem on this island has little relevance to those in far away countries of which we know little." But RDE's Gaza gaze is relevant to us, and might lead to wonder among the relatives of the slaughtered ("those far away"): why does she hate us so, why are our deaths of such little consequence to this little Irelander ideologue? To which we can only reply, don't blame us, she is in fact a little Englander (author of an official history of the British Foreign Office and of one favourable to the sectarian Orange Order). To paraphrase Standish O'Grady, she is mad and living in London. Being either is not a condition of each, but it seems to suit her.
(
Irrelevant Note: Ruth Dudley Edwards keeps all of her thoughts tidily on her website. See nice pic of computer that was taken when housesitter Sean O'Callaghan invited back unsavoury characters he met in the pub! See Indymedia's 'Infamous informer tied up during burglary', and Ruth's Sunday Independent comment (27 Aug 2006), 'Revealed: the naked truth about me, the IRA whistle-blower and the gay bondage orgy'
)
Kevin Myers – Irish Independent
An Indymedia comment on a recent Phoenix article (16 January, click article image to read) said it all.
Kevin Myers Israel supporter: poster boy for racist, fascist British National Party
"The racist, fascist, anti-Semitic British National Party have come out in support of the 'Anglo-Irish' Kevin Myers - who has been writing increasingly aggressive articles targeting non-white immigrants to Ireland.
The supporter of the GDI (Greatest Dead Irishman), Conor Cruise O'Brien - scourge of Irish republicans and Palestinians alike - has got into trouble with the Irish Press Council before. Have they the guts to take him on again? What are the consequences for inciting hatred and being associated with fascists - there are none for writing right-wing gibberish.

Supporter of Zionism, supported by fascists – some 'achievement' for the Conor Cruise O'Brien supporter."
Speaking of CCOB (might as well), he started the trend among Irish anti-republicans of supporting Israeli Zionism. David Astor of the Observer asked O'Brien if he intended interviewing then PLO President Yasser Arafat for his book on Israel, 'The Siege' (1986). "No" he said and was asked why, "I don't want to". Christopher Hitchens pointed out that the book's lengthy acknowledgements did not contain a single Arab name. The Arabs were censored, like Conor Cruise O'Brien censored republicans in Ireland. Non people, like the dead in Gaza.
Eoghan Harrris – Sunday Independent
The zeal of the convert. Once a staunch republican, he wore a trench coat habitually in 1960s Cork. He also mimicked what he thought was the oratorical style of Patrick Pearse – once, much (much) later, he delivered a speech "in the manner of a fascist" (it suited his style). Harris became a disciple of Conor Cruise O'Brien. CCOB was "always right" said Harris. That means Harris was wrong, when Harris was member of the "Official" Republican movement and O'Brien was attacking them. Harris wrote recently about media coverage (he often does, thinks he is an expert) of the Israeli Gaza onslaught. He wrote of, "alleged atrocities featuring the corpses of little children, shorn of any subtext seeking to ask if Hamas bears any responsibility for these little bodies." Let us think about the front and back of that sentence. If the featured corpses, the "little bodies" shorn of their limbs, skin and internal organs, are "alleged", indicating difficulty accepting their reality, how does Hamas bear responsibility for them? But of course it is Israeli responsibility, that of the killers, that is merely alleged, whereas that of Hamas is real in the wilderness that is Harris World. Neat, eh. Disingenuous too. But that is Harris-speak – always look out for that lurking "subtext", it will get you every time.
In the same article, 'The need for equality of suffering [?!] and of coverage', Harris wrote of the late Tony Gregory TD:
"The President and Taoiseach were also told at his funeral that Gregory's "political hero" was Seamus Costello, founder of the INLA. According to the University of Ulster's aptly named CAIN project, the INLA was responsible for 113 deaths, including two members of An Garda Siochana and 10 of its own members. In turning up for Mr Gregory's funeral but not for Conor Cruise O'Brien's, Official Ireland seemed to reject revisionists and showed respect for republican socialists. Bad choice. Far too many starry eyes under the starry plough."
What is wrong with those observations? Largely what was left unsaid? Costello was shot dead in 1976 by a member of the Official Republican Movement, part of the movement supported by Harris, in the form of Official Sinn Féin, later Sinn Féin the Workers Party, later The Workers Party. Why was Costello shot dead? Because he had split from Harris's favored organisation in 1974. Gregory had also been a member of Harris's favourite group, but got out around the same time as Costello. It was when Joe Stalin's methods were taking over from those of Patrick Pearse within 'Official' circles. Harris became a master at explaining, or rather justifying, if not applying, the new politics of officialdom. Harris was getting in his retrospective retribution, but without telling his audience where his animus came from. Harris and his group thought they were very left wing in those days. They found out that that in fact they were very right wing and that is how they are today. When they started going right on Ireland, they found that the rest of the World was but a short step away.
Hence the support for Israel.
Another string to the Harris bow, a sort of Irish version of Zionism, is that Harris thinks that there is an Irish Protestant identity that is automatically British.
Here is a commentary from Church & State (First Quarter 2009) on a recent excursion by Harris at a Church of Ireland gathering in Cork. There was an all day discussion on Protestants in the War of Independence in Cork (a favourite Harris theme). The other five speakers were academic and did not support the Harris line (not even Peter Hart, who was specially invited for the purpose). It was held as part of the Church of Ireland's Hard Gospel project, that was set up originally to help distance the C of I from association with Unionist and Orange sectarianism every year at the Church of Ireland in Drumcree, (Portadown). It was largely southern pressure that forced this step at an annual Synod. Harris tried to step backwards in Cork.
Here is part of the report:
"Harris, Hard Gospel and Hot Stuff in Co. Cork
Senator Harris stated that priests should not be "dabbling" in history. They should keep their heads down, while Protestants should keep theirs up. Harris was referring to a particular "meddlesome priest", the Oxford/TCD/UCD-educated Dr Brian Murphy of Glenstal. This was an unusual, rather ominous, message for a Church of Ireland gathering, bordering almost on sectarianism. Certainly not very respectful. Historian Meda Ryan did not meet with the Harris seal of approval either. Neither did some heads-up Protestants. Fianna Fáil TD Martin Mansergh, for instance, was castigated as a "lie down and die Protestant", according to Senator Harris. A few members of the audience were seen to shift uncomfortably.

At one point in his stream of consciousness, Harris told the tale of an Aunt who embarked on a romantic interlude with an exotic creature known as a 'Protestant' (apologies if the details are hazy, possibly the finer ones have yet to be concocted) during the holding of the Eucharistic Congress in 1932. The two had arrived in a hotel bedroom and were contemplating their own type of congress when a Count John McCormack operatic rendition of a religious character came wafting up from the ground floor. For whatever reason, this had the effect of putting an end to their intended interlude. While the denouement clearly needs work, this Hard Gospel is certainly hot stuff.

Harris spoke in the afternoon without notes (or much knowledge of the historical variety). He criticised one speaker from the morning session, John Borgonovo. While the San Francisco historian was speaking, Harris was seen to fidget, talk, get up, walk to the back of the room, go to walk out, think better of it, before settling down to frown severely at the speaker. Possibly, it had all became too much for him.
Bad Borgonovo suggested that Protestants in the South wanted nothing to do with their northern sectarian unionist counterparts and proclaimed this incessantly, publicly. The report went on:
"Harris, the former republican, had the answer: the aforesaid Protestants "had a gun to their head". Really? And when did these Protestants, who spoke out on unionist sectarianism in every Irish County not under Unionist control, reveal this to Senator Harris? What is his source, apart from the windmills of his mind? Perhaps Senator Harris could tell us how many Protestants he helped persecute when he was a fully paid-up supporter of the cause, perhaps the odd poppy lady in Patrick St? Those were the days!

According to an observer, Harris, "seemed livid" and was "working up to a great frenzy". Harris reported that, when once he was in deepest, darkest, Dunmanway, he was approached by four men in a car who pulled him to the side of the road and told him to lay-off. Harris, who informed the assembly of his daughter's conversion to the Protestant cause, was having none of it. He knew how to handle such sinister people, "from experience", he said. This war, whoever it is with or against, is decidedly not over in the Senator's eyes."
One group of (admittedly) obscure unionists think northern Protestants are the genuinely 'lost' tribe of Israel. At one point, due to a unionist MP espousing this sentiment, they were known in Westminster as "the lost tribe". Eoghan Harris, a member of the Reform Movement (prop. Robin Bury, that wants Ireland back in the British Empire, sorry, Commonwealth), will probably be starting a new Protestant Crusade in the South. The last one was launched in the 1820s and was an ignominious failure, in that it lead to the first split in Irish political Protestantism (we are talking pre-Catholic Emancipation here). The opposers thought that it might be better if Protestants considered Catholics to be fellow Christians and tried to just get along with them. Curiously, one of the Protestant liberals was an ancestor of the late Conor Cruise O'Brien. That is how most southern Protestants think, but maybe things will change if latter day O'Brienites, Harris and his coterie, get going.
Harris has found logical continuity in his political peregrinations, if not logic itself (or, as Dr Spock might have said, 'not as we know it, Jim').
Tom Carew – Irish Friends of Israel League
Tom Carew is possibly also an epigone of Conor Cruise of Brien, but is more accurately described as one of Harris – a sort of chip off the chip off the old block. He has been indefatigable in hitting the IRA-Hamas button. He can be heard making a fool of himself on RTE here,
AUDIO: Israeli apologist, Tom Carew, denies the deaths of Palestinian children
On the programme, when it was put to him that over 300 (at that stage) children had been killed by Israeli fire, he kept bleating, "What is your source, what is your source?" He claimed that the source of the "allegation" (we are back in Harris country here) was a "9-11 denier". On that basis Carew could be an Israel-children-killer denier. As I think I have already observed, neat. Not very convincing, though. In the same issue of the Phoenix (16 January) that brought out the BNP's Myers sympathies, there was a short profile of Carew. In it, it was pointed out that Carew, as well as being an official "friend" of the IDF baby killers, had been (in a previous life) a member of the 'Peace Train' - a sort of anti-republican group that used to picket Sinn Féin a lot. When the real peace train got going, the talks between John Hume and Gerry Adams, Carew and crew got off. Peace in Ireland, as in Israel is to be on the terms of the oppressor. The difference between Israel and the North of Ireland is that unionists do not have a right of self-determination, and so can't exercise one, like the Israelis do. They would like to, but don't have the same room for manoeuver.
If Carew continues like this he will, like the others here, be given his own column in the Irish or (more likely) Sunday Independent. Otherwise, he can keep on blogging on his web site, which contains nice pictures of his favourite political pin-up, Sarah Palin, and not so nice photographs and videos of his favourite soldiers, the IDF, shooting at stuff, mainly Palestinians.
Conclusion
The killing in Gaza has drawn these apologists for killing together. It has disrupted their claims to be Irish peaceniks. It's a pity so many had to die for this insight to become so plain. These right-wing ideologues are fond of saying, 'no pain, no gain'. Those brutally slaughtered by racists who dishonour the memory of the Nazi holocaust will not have died completely in vain if these apologists for the crimes of the powerful are exposed.

Getting Israel and the BNP on side - Myers is forming alliances (CLICK to read)


Bomb, bomb, bomb - the Edwards solution