Answers still outstanding about the Dublin and Monaghan bombings
international | crime and justice | feature
Thursday May 19, 2011 01:57
by Reminder
The lost lives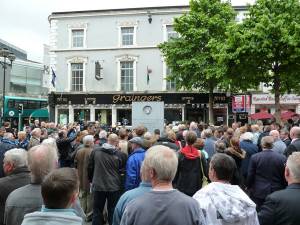 | Christina O'Loughlin | Marie Butler | Thomas Campbell |
| --- | --- | --- |
| Edward O'Neill | Anne Byrne | John O'Brien |
| Marie Phelan | Simone Chetrit | George Williamson |
| Siobhan Roice | John Dargle | Anna O'Brien |
| Maureen Shields | Patrick Fay | Patrick Askin |
| Breda Turner | Breda Grace | Ann-Marie O'Brien |
| Josephine Bradley | Mary McKenna | Colette Doherty |
| Elizabeth Fitzgerald | Ann Massey | Jacqueline O'Brien |
| Archie Harper | Ann Marren | Thomas Croarkin |
| Peggy White | Dorothy Morris | Concepta Dempsey |
| Jack Travers | Antonio Magliocco | John Walshe |
Related Links: Death Squad Leaders Invite Rubs Salt in Victims Wounds | Forgotten Justice? | Justice for the Forgotten attack Jim Cusack's misreporting on Dublin Monaghan bombings | Southern government terrified by British-Unionist bombs in 1974 - the lessons for today | Justice for the Forgotten. No manipulation of the victims of Terror. | "There is Difficulty Lower Down Whereby Sometimes Unauthorised Items Appear"
External Links: Justice for the Forgotten |Dublin Monaghan bombings (wikipedia)
On May 17th 2011, it was the 37th anniversary of the 1974 Dublin and Monaghan bombings, the single biggest loss of life during the 'troubles'.

Justice for the Forgotten (JFF), the organisation of Victims and Relatives seeking justice for the Dublin and Monaghan bombings of 17th May 1974; the Dublin bombings of 1st December 1972 - 20th January 1973 and other cross-border bombings of the 1970s held a wreath-laying ceremony at the Talbot Street Memorial.
Around 300 people attended the event.

This event was a timely reminder that there are still unanswered questions. The ball is now in the court of the British government. It is more than time for them to own up.